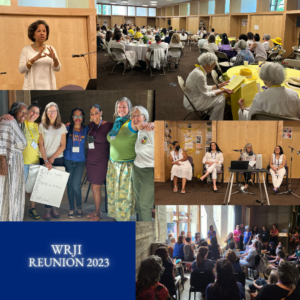 WRJI was enthusiastically welcomed at the 2023 Reunion! Returning after 4 years to offer anti-racism programs in-person to all classes, our facilitators and volunteers were overwhelmed by the response. More than 150 alums attended one of our two events.
On Saturday, we led Having Brave Conversations About Race, where we overflowed the room and offered a second session in the hallway! Sunday morning at our 3rd Annual Racial Justice Breakfast, we were welcomed by President Johnson, and offered a panel discussion on Skill-building for Cross-racial Collaboration. Both programs featured excellent teaching, plus also our signature breakout group discussions.
If you participated in our Reunion 2023 programming and haven't completed an evaluation form – please take a moment to help us improve our work by filling out the form here.
If you were inspired by our programming and want to work with us, please let us know here.
We can't wait to meet all the 4s and 9s next year and look forward to challenging one another on this racial justice journey.
Check out our current programming under the Programs menu above!